Cele mai mici preturi de pe piata la sistemele IT complete si la componente, comparativ cu principalii furnizori de calculatoare din Romania. Realizam si comercializam produse cu un standard de calitate ridicat, bazandu-ne pe o maxima seriozitate.
Va propunem rezolvarea problemelor dumneavoastra legate de tehnica de calcul intr-un timp record chiar la domiciliul dumneavoastra, iar pentru urgente in maxim 2 ore de la apel un tehnician IT se poate prezenta la sediul dumneavoastra.
Suntem de peste 10 ani pe piata IT confruntandu-ne cu toate defectele aparute atat hardware cat si software, acumuland experienta necesara pentru a rezolva problemele cat se poate de prompt si de rapid pentru a multumi clienti nostri.
Marea majoritatea a defectelor sunt abordate gresit de concurenti nostri rezolvand defectul dar nu si cauza, toate astea ducand la reaparitia defectului implicit la situati deranjante pentru dumneavoastra, de aceea consideram ca diagnosticul corect este cel mai important.
Va mai oferim asistenta gratuita on-line (prin remote) si telefonic, pentru a va ajuta in depistarea defectului, estimarea costurilor si a timpului de rezolvare.
---
---
Turoriale Sofware
---
To run Click Start - Run and type in sfc /scannow.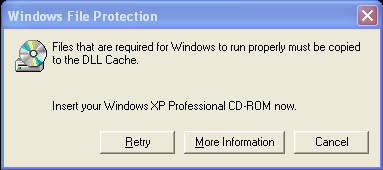 System File Checker is a utility that comes with Windows that checks the core system files for corruption. If a file is found to be corrupt then it will prompt you to insert your original Windows installation CD into your CD-ROM so it can restore the file. You will need the correct Windows installation CD with the correct level of service pack installed. For example you cannot use Windows XP Professional - Service Pack 2 CD to restore Windows XP Home Service Pack 1.
To run on a Windows 95,98 or ME
click Start
Programs
Accessories
System Tools
System Info.
Then Select System File Check from the tools menu.
Run Scandisk / Check Disk / Norton Disk Doctor.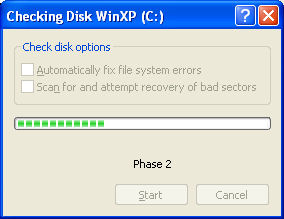 Below shows the console version which can be run from the command prompt. With the /F parameter for fix it will repair errors to the hard disk. As shown in the screen shot below it will need to do this on the next reboot.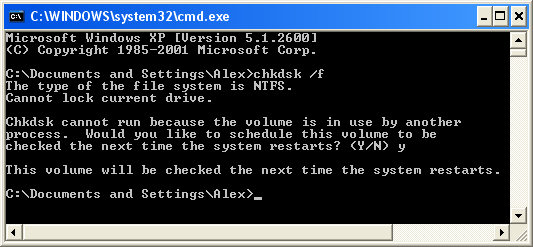 Before servicing a PC I like to check for any errors that may be on the hard disk. You can do this by running Scandiskwhich is part of Windows or if you have a copy of Norton System Works you can run Norton Disk Doctor which is much more comprehensive.
Remove temp file, history files and other junk files.
When you use your computer in general a particularly when you surf the internet your computer creates lots of temporary files. Software installs often decompress themselves to a temporary folder which doesn't get cleared down afterwards. Temporary files can add up to hundreds of megabytes and is simply a waste of space. I have also encountered situations where poorly written software uses a sequence of numbers to generate its temporary files and looks through the all the existing temporary files to find the next one in the sequence which is very slow.
Windows has a disk cleanup tool which I find to be very slow. I like Ultra Win Cleaner which is much faster for doing a quick clean up. It also has a registry cleaner. I am currently working of my own PC Servicing tool which will have a disk clean function.
Install Latest Windows Service Packs and security fixes.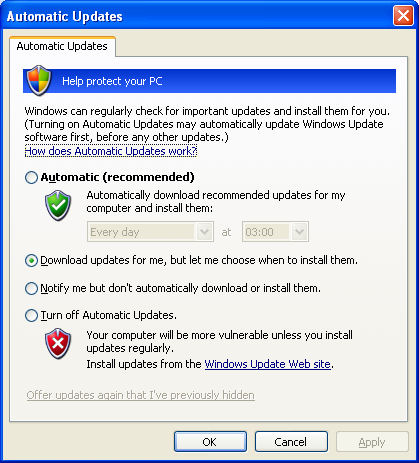 Installing to latest Windows service packs and security fixes is a must as Microsoft are frequently finding security holes and bugs and bringing out updates to fix them. This process is also a good way of replacing any corrupt system files you may have on your PC. If you have broadband you can download the latest service packs from www.microsoft.com. If you only have a slow internet connection you can often find them on the cover CDs and DVDs of various computer magazines.
Update or reinstall the Internet Explorer.
Although this also falls under the heading of the previous section I think it is so important I have given it its own section. You can fixes loads of browsing and stability problems by installing the latest Internet explorer upgrade. If how ever you already have the latest version of the internet explorer installed you can refresh any corrupt files by performing a reinstall.
This is an obvious one but often when people bring a computer to me to service I find that it has no anti virus software installed and is therefore infected with many viruses. If your computer is infected with a virus or viruses your computer will slow down and become very unstable as the viruses instruct your computer to look for other files or emails to infect and well as the damage they may be doing to your system files.
I currently recommend the Kaspersky Anti-Virus scanner.
If you do not have a virus scanner installed there are a number of online virus scanners:-
http://www.bitdefender.com/scan8/ie.html
http://www.kaspersky.com/remoteviruschk.html
http://housecall.trendmicro.com/housecall/start_corp.asp
http://security.symantec.com/sscv6/default.asp?langid=ie&venid=sym
Sophos do a useful command line virus scanner which can be downloaded for free from :-
http://www.sophos.com/tools/sav32sfx.exe This tool does not disinfect files but will tell you which files are infected to you can delete them yourself if you wish.
The AVG virus scanner has a free edition which can be downloaded from http://free.grisoft.com/doc/2/lng/us/tpl/v5. This version allows free updates once a day. With virus scanners like this available no one has any excuse not to have antivirus software installed.
One of the main ways in which viruses spread is through emails. Once your computer becomes infected the virus can read your contacts in outlook and email each of them a copy of itself. To prevent this I recommend disabling the preview pane so that HTML emails which contain viruses attached our not automatically executed before you have had chance to delete them. I also strongly recommend installing Service Pack 2 if you are running Windows XP.
There are many tweaks you can perform on your system that can increase performance. Older operating systems such as Windows 98 can have tweaks to increase various cache setting which are set at a lower default setting for the hardware which was current at the time of release. There are also tweaks to remove built it delays and remove unnecessary features. There are a number of programs that can do this. I recommend PCBooster.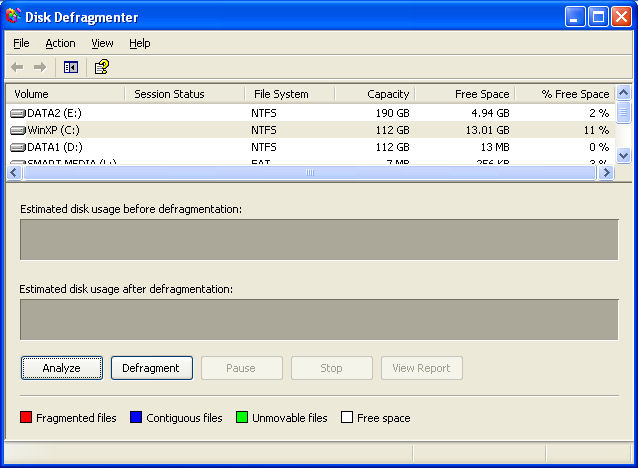 When files are deleted from your hard disk a gap is left where the file used to be. The next time a file is written to the hard disk the gap is filled with part of that new file (if the new file is larger) and the rest in other gaps or spaces which are marked as available. Over a period of time instead of files be stored in a continuous block they are fragmented across the disk. Defragmenting the disk is the process of taking these fragmented files and concatenating them to continuous blocks. This means to hard disk head is not continuously moving about all over the disk to read the files.
This may be obvious to some people but it's amazing how many technical people do not perform this tasks regularly or at all and it can make serious improvements to performance.
To defrag a hard drive simply
right click on the drive in My Computer
select Properties
Tools
Defragment Now